250 Tractors but just one bag of pasta
Before reading David's full referral, his current situation was highlighted to me. David had spent all is money on toy tractors and had now found himself in arrears facing eviction. It was certainly a strange circumstance and the referral did not provide further insight, other than this reason for the arrears. What was also difficult was that David had no means of communication other than knocking on his door (he was in a shared house) or posting a letter through his door.
So off I went to undertake the initial assessment of David at his house. I was very lucky as I knocked on the door and the downstairs tenant let me in. I did not even show my pass simply advised I was from a charity. This raised its own concerns about access to my potential client which I discuss further into David's story.
Once inside I met David who I remember was very thin and seemed like he had been starved. I know that sounds over the top but during our assessment, I asked David what food he has to eat over the next few days until we next met up. David opened his kitchen cupboard and all he had was an old bag of pasta. As a support worker you are trained to be objective, as David had already stated he had spent all is money on toy tractors the best thing to do was to fix this issue at hand and start to build trust.
I advised David I would be back shortly and discussed the situation with my manager. We agreed that the first thing to do was to get David some food so we got him a food voucher and picked up food for him. The second thing to do was to understand what is actually going on with David's money as spending all of it on toy tractors at the expensive of your health, was not sensible. I left David with a request to collate his bank statements from the last three months so we could look at his finances in more detail. I would return in 3 days with another food bank parcel as agreed with my manager.
During the next meeting I looked through the bank statements while David put away the food  I had brought from the food bank. The bank statements were very revealing, it turned out the days when David's pensions entered his account they were being withdrawn, on the same day, at a local supermarket in two large amounts. Having now built a little bit of trust with David, I decided to ask what was happening with the withdrawals and why he had no food. David was unwilling to answer and just advised he did know.
Due to David's response and now believing that at best there may be some financial mismanagement, and at worse financial abuse, I asked if someone was getting food for him. He advised they were but he didn't know why he was left without any food. Another look at his bank statements showed there were also large amounts coming directly from his bank. So with David's permission, we went to his bank on the High Street to ask if they knew what was going on.
The bank manager met with David and I, with his consent, about his finances. It appeared they already knew about these issues. They told me that when David came to the bank on is own he would just withdraw £10-£20 but when he came with, what David advised was a friend, he would withdraw very large amounts of money. As David had asked to take the money there was nothing they could do to stop the cash withdrawal. They advised me that David was on their vulnerable adults list.
David was a little uneasy at this point so we agreed to return another time and I took David home. I was now one month into working with David and so once we got back I decided to have an open conversation with David about what I thought was financial abuse. This paid off as David confided that two people had been taking his money and leaving him with nothing.
Safeguarding Steps
Based on this and with David's consent we began to implement some safeguarding that would make it more difficult for this to keep occurring. In the meantime, I would speak to my manager about involving other agencies. Whilst I cannot divulge all the safeguarding steps we took, these three steps were the most fundamental in changing the pattern of abuse:
Safeguarding Step 1: To get David to agree to cancel all his bank cards and tear up any cards he had. To prevent the abuse with regard to the local supermarket withdraws.
Safeguarding Step 2:  With David's permission and working with the bank, we agreed that if David should visit the bank without me, as his verified support worker, the bank would call me. I would speak to him to see if he was OK and attend the bank to make sure if I was in doubt.
Safeguarding Step 3:  With agreement from my manager and David, I would take David once a week to the bank to withdraw money so he could buy food.
Once these steps were implemented I then decided to talk to the landlord and the council to make them aware of the situation. Not having yet met the perpetrators of this abuse, I would now be keeping a close eye on David until we could gain more information. That could be used to raise a safeguarding case and a potential police report. In the meantime, the council agreed to help David with the bidding as he was now on the housing register while at the same time applying for DHP to try and clear the arrears.
Now we were one and half months into the support and the safeguarding had been in place for two weeks. I received a call from the bank in late December advising me that David was asking for money at the counter. They put me on to David and I asked if he would like me to attend the bank. He advised he did and so I made my way to his bank.
On arrival David was stood outside with a woman who I had been told was called Louise. Louise immediately advised she was a friend of David's and was helping him with things for his house. However, the bank had already confirmed to me that this is the same lady who had made the large cash withdrawals. I spoke to David to advise if this was indeed a friend but he just looked away from the woman. I then advised Louise that David no longer required her assistance and requested she has no further contact with David. She left advising that "I did not know who I was messing with" and David and I went into the bank and discussed the situation further. We were pleased that the safeguarding steps we had agreed had worked.
Once at home, David opened up more about the financial abuse and how he felt threatened by this woman. David consented to me raising both a safeguarding concern and informing the police. At the same time, I spoke to my manager and agreed to get David a cheap mobile so we could call him twice a week to make sure he was alright and that the lady had not returned.
After raising both reports David had social workers assigned and a police officer came to take the details. Unfortunately, David has memory lapses so it was always going to be difficult to prosecute this potential abuse. However, the police were now aware and having met this woman I could identify her and this was backed up by the bank's CCTV.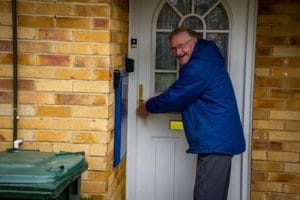 I implemented two further safeguarding measures, the first was for the landlord to send out a letter to all tenants asking that they do not admit anyone to the house they do not know. The second measure was that anyone who calls for David should be given my number so I can qualify who they are. This was all agreed with David.
After three months of support, there had been no new incidents of financial abuse. This is a combination of implementing safeguarding steps, cutting up the bank cards, collaborating with the bank and providing David with a mobile phone so I could call David twice a week.
Paul
Support Worker